BOBBY ALLEN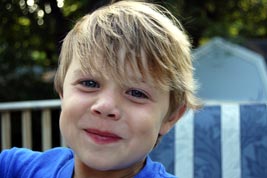 On January 1, 2003 Robert Christopher Allen, made his entry into this world. His apgar scores were perfect, we took him home to love and raise him just like any other baby. Then, on February 28, 2003, God revealed a different plan.
When Bobby was eight weeks old, in the middle of the night he stopped breathing, and was rushed to the emergency room. He was quickly transported to Boston Children's Hospital where he stayed in the ICU then in the neurology unit for five days. He had every test imaginable, and the doctors were determined to find out what was wrong. Several weeks later, we were given news that at the time was incomprehensible. In conjunction with Dr. DeVivo at Columbia Presbyterian Medical Center, the pediatric neurologists diagnosed Bobby with a rare brain energy metabolic disorder called glucose transporter deficiency syndrome (Glut1 DS). It means that his cells do not pick up and transport glucose to his brain properly. Glucose is the principal source of fuel to the brain. Children with this disorder have a myriad of physical and mental disabilities, ranging from mild to so severe that they cannot walk or talk.
The only known treatment to date is a very restrictive diet called the ketogenic diet which is usually used for children with seizure disorders that do not benefit from conventional drugs. It is a treatment of last resort for them. For Bobby and Glut1 DS children, it is the only treatment that can control the seizures and hopefully help with providing energy to the brain. However, it is currently unknown how effective this treatment may be. Bobby's diet is high in fat and allows no sugar, adequate protein and very little carbohydrates. His calories and food intake are extremely limited due to the high fat nature of the diet. He typically takes a shot of canola oil or has a drink combined with heavy cream to satisfy the fat requirement for any given meal or snack.
Compliance with the ketogenic diet has enabled Bobby to keep his brain fueled, and it has kept him seizure free. But, while the diet is helping his brain, it is potentially adversely affecting his physical health, his organs, his bones and his growth. There are no definitive studies on the long term effects of being on the ketogenic diet for many years. So, we, and a team of doctors at Boston Children's Hospital and Columbia Presbyterian carefully monitor Bobby's physical and emotional health.
So far, Bobby has endured the diet bravely but is often frustrated by his endless restrictions. He frequently says things like, "when God gives me a cure, I am going to try a bagel" or a real sandwich or an entire ear of corn (he loves corn) or a cupcake. When he discusses his diet, he reveals his understanding that it enables him to walk and talk and go to school and climb and play and grow and sing and dance, yet he says he does not want the diet anymore and that the oil is "yuck."
When Bobby was eleven weeks old, the doctors and the literature on Glut1 DS told us that he might be cognitively impaired, and he might never walk or talk. With stunning perseverance and hard won compliance with the ketogenic diet, Bobby has defied the odds and none of these predictions have come to be. Instead, at 7 years old, he often expresses that he is waiting for a cure, he told his parents that he wants to go to Holy Cross College because "I am smart enough to go there," and since he was 5, he has ridden his two wheeled bicycle without training wheels and with a huge victorious grin. He plays baseball and lacrosse, and he just finished first grade with a glowing report card from his teachers. He still receives occupational and physical therapies at school, and he works harder than some of his peers to achieve his academic success, but he does it!
Bobby is extraordinary. Anyone who has enjoyed his warm smile or experienced his ridiculous belly laugh knows that his triumphant spirit eclipses every obstacle put in his path. Thank you for reading Bobby's story. It looks like he will write the rest.