MITCHELL ZERAFA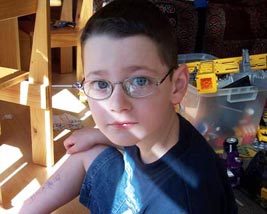 Mitchell is a seven year old boy with Glut1 DS. Mitchell was not diagnosed until he was 6 years old. So for six years, his parents searched for answers as to why their little boy was having seizures and other serious neurological symptoms - all the while they watched in anguish as he got worse and worse each year.
He also suffered from global developmental delay, lack of balance and coordination, hand tremors so severe he could not even hold a crayon. He had difficulty walking and several times a day he had to use a wheelchair that his parents had to keep with him at all times. He could not learn. After two full years of pre-school, he did not know his alphabet. His parents said that they "could see in his eyes that he wanted to do all the things the other children were doing, in his mind he could, but his body would not let him."
Then, at 6 years old, he was diagnosed with Glut1 DS and put on the ketogenic diet. He had immediate improvements and never had another seizure. Within 6 months, he knew his alphabet and had begun to read. Now, 18 months later, he is reading ABOVE HIS GRADE LEVEL. And, he can write and draw real pictures for the first time in his life. He is walking, running and jumping. And, he has never used the wheelchair again, never, not even once.
His mom said, "before his future was so, so bleak, now it is full of possibilities."