GRACE MARTENS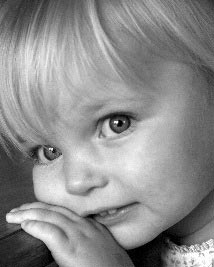 Gracie was diagnosed at twenty-two months old with Glut1 deficiency syndrome and started the ketogenic diet in July 2008. She immediately showed signs of improvement within days of being on the diet, even before leaving the hospital for the initiation of the diet.
She has been seizure free for over a year now and came off all seizure medications in December 2008. Gracie is starting to walk on her own, gaining strength and stability along the way. She is no longer ataxic and has found her center allowing her the freedom to stand independently and go where she wants, when she wants without assistance.
Gracie's fine motor skills have improved so much that she can play with and manipulate the smallest of toys, even Polly Pocket dolls and accessories. Gracie still has trouble verbally expressing herself with a very small vocabulary though she does simple signs and is very good at showing you what she wants and gives a yes or no response when asked to do so.  
Gracie is a very smart, determined and strong willed little girl, now three years old.  She is super social, loving a crowd and entertaining everyone around her with her cute expressions, dancing, signing and giving a thumbs up while saying "dude."
She's quite a spectacular little girl,and we cannot wait to see what she does next as she never ceases to amaze us.